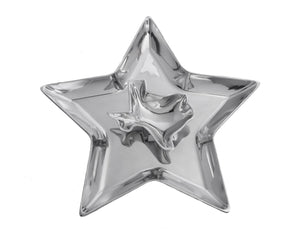 Engage your guests with the recognizable pieces in this unique Texas Chip and Dip.
The roles reverse in this handmade design as the Texas-shaped sauce bowl fits inside of a larger star. Crafted in lustrous aluminum, the versatile set lends its removable salsa station to any of your creative uses.
Size:
 L: 14.0" / W: 14.0" / H: 1.5"
Care:
 Wash by hand with mild dish soap and dry immediately - do not put in the dishwasher.