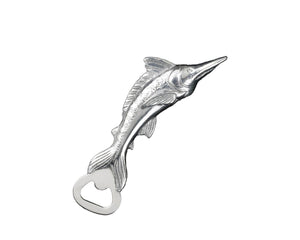 The female Marlin grows to 14 feet and 2,000 pounds, but manages to swim at 60 miles per hour. If you're tired of fishing around in drawers for tiny bottle openers, consider this efficient 7-inch Arthur Court marlin bottle opener and borrow the power of the mighty marlin to throw some weight against tough-to-open bottle caps. Whether you're sharing angling yarns over fresh fish dip or frying up the catch of the day, you can use this utensil to net hassle-free beverage opening. Wrap your hand around the long body and dorsal fin to get a solid grip, before liberating a bottle of your favorite beer or soda. This marlin bottle opener from Arthur Court has finely sculpted fins and body details you can proudly display on your bar or counter area, or stow away in totes for weekends on the boat.
The marlin's intricate tail forks and runs along each side of the opener's neck. Detailed fins give the handmade, aluminum piece a distinct texture, while the fish's long, recognizable bill offers lifelike appeal.
Size:
 L: 7.0" / W: 2.0"
Care:
 Wash by hand with mild dish soap and dry immediately - do not put in the dishwasher.