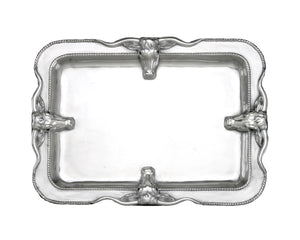 Take food from this Large Longhorn Oval Platter quickly before these hungry animals get involved.
All four of these lifelike steer heads point towards the middle of this piece as their muzzles extend into the interior from each side. Their unmistakable horns blend into the ropy pattern that borders the wavy, outer edge of this handmade, aluminum dish.
Size:
 L: 18.0" / W: 14.0" / H: 1.5"
Care:
 Wash by hand with mild dish soap and dry immediately - do not put in the dishwasher.