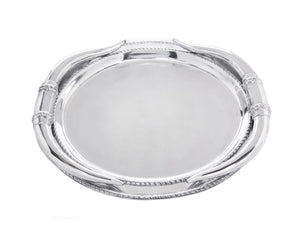 Surround your signature meal with the attractive, U-shaped features of this Longhorn Oval Platter.
Two sets of horns seemingly reach for each other as they adorn the rim on either side of this piece. A double-sided, ropy pattern borders both edges of this handmade, aluminum platter before wrapping itself around the central handle on each set of horns.
Size:
 L: 18.5" / W: 15.5" / H: 2.0"
Care:
 Wash by hand with mild dish soap and dry immediately - do not put in the dishwasher.