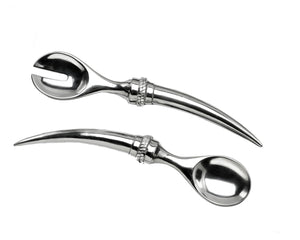 Thrill the guests at your next party with this unique Longhorn Serving Set.
An arching horn narrows to a point at the end of each handle, while the sleek, lustrous finish of these pieces attracts warranted attention. The handcrafted, aluminum design also features an indented, ropy band around the neck of each server.
Size:
 L: 12.0"
Care:
 Wash by hand with mild dish soap and dry immediately - do not put in the dishwasher.