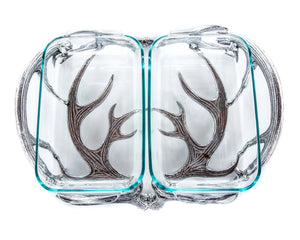 Feel the wanting eyes of your guests as you bring out Arthur Court's 2-qt Pyrex Double Antler Holder. 
Handcrafted antlers flow back in alluring symmetry to create the base, illuminating in a brilliant luster underneath the Pyrex as if lit by moonlight. Thick handles reach up the sides to support the Pyrex, which is removable and dishwasher safe.
Size:
 L: 18.0" / W: 13.0" / H: 4.0"
Care:
 Wash aluminum by hand with mild dish soap and dry immediately. Pyrex Glass is dishwasher safe.