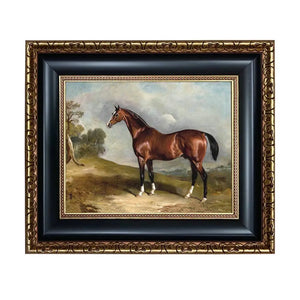 Accurate reproduction of the original 1831 oil painting. Sultan was a famous British bay thoroughbred race horse. This image is printed on canvas, mounted to a board and treated with a historic looking varnish. It is framed in a black and antiqued gold resin frame and comes a sawtooth or wire hanger.
Made in USA.
Print Size Finished Framed Size  11" x 14" 11-1/2" x 13-/12" 3-1/4" 2" Sawtooth
 Note: This print may be available in different sizes and frames. Please contact us for more information.